If sleek, straight, shiny strands are your goal of the year, well you're in for a treat. Why? Because we have taken the liberty to compile the list of best hair straighteners in India.
These amazing iron tools will help you get the salon-like worthy hair, that is ready to go at any party, your friend's birthday celebration, or any other event – at an affordable budget.
After all, not all of us want to splurge on straighteners and we all know it's not one of those hair accessories that we'll use all day. Speaking of this, straightening your hair can dramatically change your appearance regardless of the attire you wear, be it semi-western, formal, or ethnic.
Using a good quality iron can really make a difference, as you don't want to wind up with hair frizz, or in the worst case, damage your hair strands. Hence why we've also included a buyers' guide too.
We've scoured the world of Flatirons in India and listed the best in class for every price bracket. From some of the most expensive brands to affordable options, these 15 straighteners will give you a look you've ever wanted – minus the scorch.
Types of Hair Straighteners
Before we unveil our best hair straighteners lists, here's something you should look out for first. Like any merchant in the market, hair straighteners have evolved over time. Now, they are more advanced and come with a lot of great features and various types.
Each type of straightener is unique and suited for different types of hair. Make sure to buy the appropriate type of straightener as per your hair quality. Here's a quick breakdown of the most common types of straighteners in India.
Flat Iron
The most common type of hair straightener available today. These are the first category of straighteners that entered the market and are still quite popular. Flat irons are mostly coated with metal or ceramic plates.
They are limited in functionality but their advanced coating material makes them resistant to spread any heat event. Because of this, they sometimes get overheat and may result in some uneven patches on your hair. Today, this problem is solved and now you can buy some good quality Flat irons in India.
Ceramic Material
Often called ceramic coated or solid ceramic straighteners. Ceramic coated plates, as the name suggests contain a ceramic coating on each side of the flats. This type of hair straightener heats up very evenly thus providing a smooth glide on your hair. They are also advanced in functionality and mostly feature temperate control technology to get the best-suited hair for frizz. However, the significant disadvantage of this type of straightener is that the coating tends to peel off over time. This reveals the latter underneath the iron which might not produce satisfactory results
Tourmaline
Another type of hair straightener, specifically designed for dull and damaged hair. Although they have a higher price point but are worth the extra investment. Tourmaline straighteners are coated with infrared technology that produces negative ions on the surface of the plates.
This removes the static charges of the material, resulting in a moisturized and frizz-less hair experience. As a result of this, your hair looks voluminous and shiny.
Straighteners Brush
Although straightening brushes don't look like a straightener, but they fall in the same category. A straightening brush, as the name suggests is a type of hairbrush that is used to smoothen your hair curls.
Many hair brushes are paired with scads technology that prevents your hair roots and scalp from burning. Some advanced brushes are even equipped with negative ionic technology that helps remove the frizz and make your hair look gentle.
Titanium
One of the best and highly sufficient coating on a hair straightener. Titanium straighteners are the best in class, offering some remarkable features for your buck. It's safe to use, lightweight, and can easily handle all types of hair. This type of straightener is mostly used in top-end salons or for professional usage.
Now that we've covered some of the basic types of hair straighteners, let's jump on to the actual list.
---
The Best Hair Straighteners in India
Styling your hair can be easy, but maintaining it can become expensive as you'll always have to pay up for the touch-ups at the salon. If you want an effortless style experience, then shop from a list of the best Hair Straighteners in India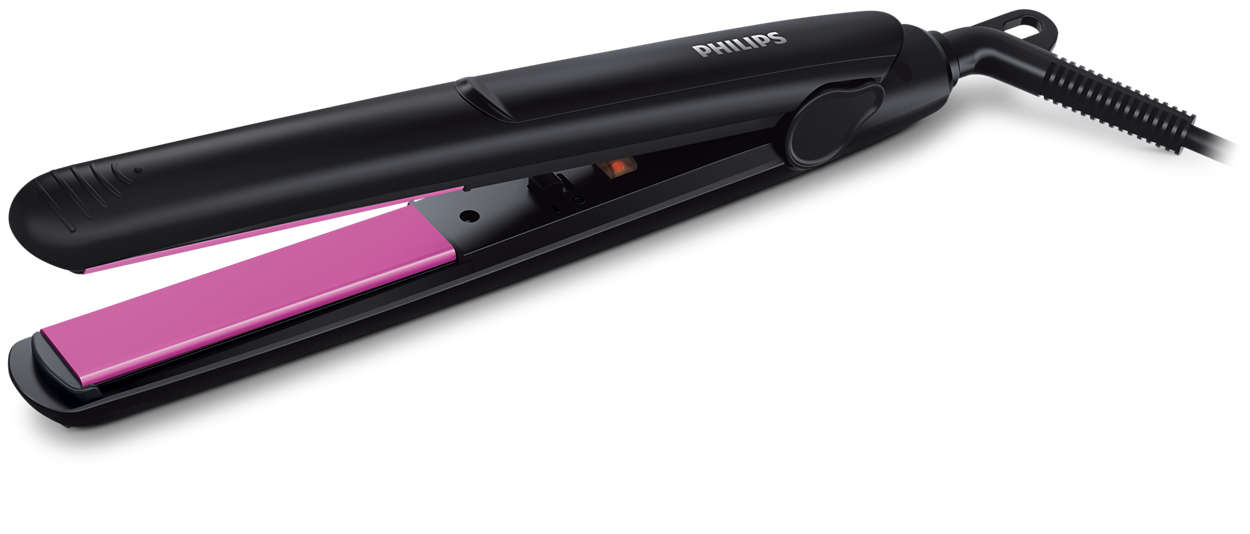 | | |
| --- | --- |
| Material | Ceramic |
| Power Source | Corded Electric |
| Weight | 327 Grams |
| Temperature Setting | 90-210 Degrees Celsius |
| Fast Heat-up | 60 Seconds |
The number one straighter on our list is the Philips HP8302 Essential Selfie Straightener that is worth every single penny. This ceramic plate straightener gives you silky, straight hair with a single swipe. The best part about it is that it operates at optimal temperature, thereby minimizing the heat damage.
It comes with a long cord, self-swivel which is an added plus. This particular straightener is very easy to travel with as it is quite compact and operates on a volt range of 110-240. Even if you have a very rough and frizzing hair texture, Philips HP8302 will smooth it out in no time.
Pros
Value for Money
Easy to Use
Quick Heat Up
Swivel Cord
Universal Voltage (110-240)
Cons
Can make hair dry if used extensively
Requires additional products for long-lasting results (hair sprays etc.)
---
| | |
| --- | --- |
| Material | Ceramic |
| Power Source | Corded Electric |
| Weight | 390 Grams |
| Temperature Setting | 150-230 Degrees Celsius |
| Fast Heat-up | 60 Seconds |
One of the best straighteners out there which gives you salon-like results. Whether your hair is extremely thick, long, or coarse, it will become silky smooth and super manageable after using this particular straightener. It has 100% ceramic plates that keep the frizz at bay.
The wide plate makes the hair straightening process quick and easy as it allows you to straight larger chunks. The temperature of the device can be easily adjusted with the help of control buttons. You can adjust it as per your hair type and thickness. Moreover, the results last very long even if you don't use additional products to hold the style in place.
Pros
Comes in beautiful colors
Temperature control varies from 150 and 230 degrees
Long power cable
Large plates
Long-lasting results
Cons
Some users have reported strange smell when used at higher temperatures
Non-compact design
---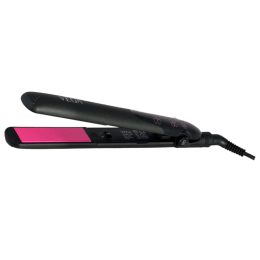 | | |
| --- | --- |
| Material | Ceramic |
| Power Source | Corded Electric |
| Weight | 370 Grams |
| Temperature Setting | 210 Degrees Celsius |
| Fast Heat up | 60 Seconds |
The ceramic coated plates of Vega Adore Hair straightener straighten out even the roughest of hair textures. A lot of salon owners severe by it. One of the best perks of this device is that it offers uniform heating that prevents unnecessary heat damage. Comes with a 360-degree swivel cord that is a benefit on its own. You can twist and turn it all you want without worrying about the cord getting tangled.
It comes with an easy lock system that makes the plates clamped allowing you to easily store it in your travel bag. The results are very similar to a salon.
Pros
Salon like results
360-degree swivel cord
Easy lock system
Uniform Heating
Compact Design
Cons
Temperature controlled option is not present
Smaller plates
Takes a long time to straighten hair
---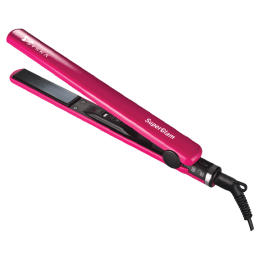 | | |
| --- | --- |
| Material | Ceramic |
| Power Source | Corded Electric |
| Weight | 270 Grams |
| Temperature Setting | 230 Degrees Celsius |
| Fast Heat-up | 30 Seconds |
This particular straightener is crafted in Korea and gives your hair a silky-smooth appeal with minimal damage. Your hair will glide smoothly through the plates and the outcome will be shiny straight hair. Heat-resistant ceramic coating quickly cools down once turned off.
The quick heating action heats up the plates in 60 seconds and is very easy to carry around in a bag. Heat balance technology works well for all hair types. It offers complete value for money. Definitely amongst the top 10 straighteners of all time.
Pros
Quick 30 sec heat up
Overheat protection
Ceramic Coating Plates
Heat Balance Technology
Safe to use
Cons
Average size plates
Requires multiple strokes for Rigid hair
Takes longer to straighten hair
---
| | |
| --- | --- |
| Material | Ceramic |
| Power Source | Corded Electric |
| Weight | 435 Grams |
| Temperature Setting | 220 Degrees Celsius |
| Fast Heat-up | 30 Seconds |
The Kemei 329 is packed with ceramic plates that retain the moisture of your hair without causing damage to your locks. It offers multiple temperature levels which enables you to adjust the temperature as per your hair type and texture. Kemei KM-329 Professional Hair Straightener heats up in 30 seconds.
The swivel cord makes it easy to use and avoids the nuisance of accidentally unplugging the cord. It is also very compact which makes it easy to carry around.
Pros
Multiple temperature settings
LED indicator
Auto Shut off
Ceramic Plates
Handy Size
Cons
Makes the hair dry if used at a high setting
Requires hair spray to hold the style in place
---
| | |
| --- | --- |
| Material | Teflon Coated |
| Power Source | Corded Electric |
| Weight | 300 Grams |
| Temperature Setting | 200 Degrees Celsius |
| Fast Heat-up | 60 Seconds |
Nova NHS – 840 Professional Series Straightener is one of the most affordable yet effective straighteners out there. The plates are very sleek which allows you to straighten all hair pieces with ease especially those annoying baby hairs that pop out every now and then.
It heats up in 60 seconds and Teflon coating plates minimize the heat damage. The nova straightener imparts a beautiful shine to your locks while making them silky. One downfall of this product is the lack of temperature control. Other than that, it is an amazing product.
Pros
Sleek design
Imparts shine to hair
Affordable
Compact
Cons
Plates are not completely ceramic
Might not work well for rigid and coarse hair
No temperature controls
---
| | |
| --- | --- |
| Material | Plastic, Ceramic |
| Power Source | Corded Electric |
| Weight | 305 Grams |
| Temperature Setting | 210 Degrees Celsius |
| Fast Heat-up | 45 Seconds |
It is fast heating straighter that comes with a 2-year warranty. That is one of the best indicators of the quality of the product. The swivel cord and hanging loop make the usage super easy and convenient. Quick 45-second heat up and advanced PTC heating elements are some of the top perks of this straighter.
You have to swipe the straightener 2 to 3 times over your hair if you have coarse and rough hair, coupled with a few styling products to achieve long-lasting results. All in all, it is one of the best straighteners.
Pros
45-second heat-up
PTC heating elements
Swivel cord and hanging loop
2-year warranty
Easy to Use
Cons
Requires multiple strokes to straighten coarse hair
Hair spray or detangling spray is a must
---
| | |
| --- | --- |
| Material | Ceramic |
| Power Source | Corded Electric |
| Weight | 299 Grams |
| Temperature Setting | 230 Degrees Celsius |
| Fast Heat-up | 45 Seconds |
This is amongst the newer generation of hair straighteners and is very convenient to use. It is almost similar to brushing your hair while achieving a straight, blow-dried look. The straightener works at a relatively low temperature and comes with anti-static technology to minimize the damage and achieve impeccable results.
This multipurpose product combined the attributes of a straightener, brush, detangler, and anion massager. It almost mimics a hair spa experience that you can do in the comfort of your own home. Anybody can use it even those who have just started styling their hair.
Pros
Easy to use
Perfect for a blow-dried look
Detangles the hair
Multi-Function
Does not causes hair damage
Cons
You might need hair serums to combat the frizz
Low heat setting might not work for coarse hair
---
| | |
| --- | --- |
| Material | Ceramic |
| Power Source | Corded Electric |
| Weight | 318 Grams |
| Temperature Setting | 190 Degrees Celsius |
| Fast Heat-up | 60 Seconds |
Get the styling you want with Havells 5 in 1 Hairstyler. This ceramic-coated straightener comes with an advanced PTC protection unit that provides the perfect temperate for an effortless glide. The unique foam on the back paired with a high-performance cool insulated tip ensures that your hair and fingers are protected from any accidental touch. The package comes with a styling crimper, 19mm curler, conical curler, and a brush comb. All of these units are your convenient travel companion and are worldwide voltage compatible
Pros
Quick Heat up
Comes with great attachment
Ceramic Plates
Travel Friendly
Cons
The brush is just OK
No temperate adjustment
---
| | |
| --- | --- |
| Material | Plastic, Ceramic with Ion Technology |
| Power Source | Corded Electric |
| Weight | 450 Grams |
| Temperature Setting | 160 – 220 Degrees Celsius |
| Fast Heat-up | 30 Seconds |
An affordable yet amazing offer for the ladies. The Nova NHS-900 Hair Straightener is a perfect resemblance of charm and performance. This ceramic coated straightener is nicely built, comes with floating plates to reduce split ends, and features wider plates to help you get rid of those tangled curves.
And the best part is, this straightener is ready to use in just 30 seconds, making it one of the fastest we've included in our list. What's more? It has thermos balance technology, which protects your hair from excessive heat or a warmer touch. If you're looking for an affordable option for your everyday use, the Nova NHS-900 can offer some serious value for money.
Pros
Very Economical
Adjustable Temperate Control
Lock Function
Wider Plates
Cons
A bit heavy
Hair straightening lasts for 1-2 hours
---
| | |
| --- | --- |
| Material | Ceramic with Keratin Technology |
| Power Source | Corded Electric |
| Weight | 476 Grams |
| Temperature Setting | 130 – 230 Degrees Celsius |
| Fast Heat-up | 60 Seconds |
Featuring a premium design hair straightener that comes with advanced keratin-infused technology to offer you a silky, smooth, and long-lasting hair shine. The long floating plates cover the large section of your hair without you have to worry about the long ends.
The straightener features a built-in digital temperate display that allows you to change the settings from 130'C to 230'C. You've also got an easy lock system that closes the plates together to get maximum output. Just insert your hair in the 2-inch section between the plates, move slowly to press the iron, repeat and your hair is curve-free in just 5 minutes.
Pros
Keratin-Infused Ceramic Plates
Digital Temperature Setting
Travell compatible
Quick Heat up
Cons
---
| | |
| --- | --- |
| Material | Titanium Coated plates |
| Power Source | Corded Electric |
| Weight | 380 Grams |
| Temperature Setting | 155 – 220 Degrees Celsius |
| Fast Heat-up | 30 Seconds |
Featuring an attractive golden color that is easy to carry around – The Havells HS4152 Hair Straightener is surely a favorite of many young fans. It offers tons of advanced features that are only found in premium products, yet it touches an affordable price bracket. Talking about features, it has a safety pointer that shuts off if on idle state, takes only 30 seconds to heat up, and has a control button to increase or decrease the temperate of your choice.
The straightener is also very versatile in terms of look and has 6 temperate settings from 155 to 220 degrees Celsius. It offers more than flexibility in design and can get rid of those tangly curves in just 5 minutes.
Pros
Travel Friendly
Plate lock
Hair damage control
Cons
Corpus is average quality
Average packaging
---
| | |
| --- | --- |
| Material | Ceramic |
| Power Source | Corded Electric |
| Weight | 420 Grams |
| Temperature Setting | 210 Degrees Celsius |
| Fast Heat-up | 120 Seconds |
Yet another great Hairstyling product from Vega. The VHSH01 is an affordable option in your arsenal, specifically designed for people that want to get the best at cheap. Get natural-looking hair in just 2 minutes. The straightener features 100% solid ceramic plates that can help you with the styling process at ease.
It heats up in 2 minutes and has a maximum temperate range of 210 degrees. With 25W power consumption, it can deliver exceptional results in a short time. Furthermore, it features a 360' swivel cord, which makes the rotation of the device a bit convenient and prevents unnecessary tangles.
Pros
Affordable
Dual Voltage 110-240V
Offers straight and shiny hair
Maintain stable temperate
Cons
No temperate control
Average performance on fuzzy hair
---
| | |
| --- | --- |
| Material | Ceramic Tourmaline |
| Power Source | Corded Electric |
| Weight | 1500 Grams |
| Temperature Setting | 150 – 230 Degrees Celsius |
| Fast Heat-up | 60 Seconds |
IKONIC is kind of new in the game, but their quality of product and extra performance is not something we can ignore. If you're looking for an extra-wide hair straightener ideal for medium to long thick hair – this one is for you. It features tourmaline ceramic plates that help eliminate frizz in seconds and emit gentle infrared heat for effortless curling.
The temperate control button allows you to change the range from 150 to 230 degrees celsius. The professional PTC quality paired with ceramic heaters allows this product to last longer than its competitor. It also has beveled edges and adjustable floating plates for a voluminous look.
Pros
Straightens your hair in just seconds
LED display
Auto shut-off
Reliable built quality
Cons
Expensive
The brand is not that popular
---
| | |
| --- | --- |
| Material | Plastic, Ceramic Coated Titanium |
| Power Source | Corded Electric |
| Weight | 650 Grams |
| Temperature Setting | 220 Degrees Celsius |
| Fast Heat-up | 30 Seconds |
This is a full combo package ideal to gift someone or use for personal usage. The kit features a hairdryer and a hair straightener. The hair straightener is fitted with ceramic plates that heat up in just 30 seconds. The product has 4 variable temperature control settings perfect for the styling of all types.
The straightener claims to style your hair from extra frizz to dry and wet hair in just a few seconds. That said, it offers tons of extra features that are only available on the expensive unit, yet it follows an affordable price bracket. All in all, it's a great combo option for the customers.
Pros
Straightener and blow dryer
Auto shut off
Suitable for all hair types
Affordable
Cons
The wire is a bit short
Requires hair spray
---
| | |
| --- | --- |
| Material | Titanium, Ceramic |
| Power Source | Corded Electric |
| Weight | 300 Grams |
| Temperature Setting | 190 – 210 Degrees Celsius |
| Fast Heat-up | 60 Seconds |
The newest lineup in the BHS series, offering quick and smooth styling with ceramic plates infused with negative ion and titanium. This hair straightener features one of the best quality ceramic plates you can find. It offers fast heat transfer and smooth glide throughout your hair.
The product also has 2 professional temperate settings, for long-lasting results to medium causal results. The fast heat technology allows the straightener to heat up in 60 seconds.
Pros
Unique design
Long heat safe cord
Make smooth styling
Cons
Expensive
No digital meter
---
Choosing the Best Hair Straightener India for your every need
Now that we've covered the list, how can we pick the hair straightener for our individual or professional need? Here are some points you should consider before buying.
Temperate
Always choose a hair straightener that offers variable hair temperates that work best for all types of hair. An idle hair straightener works between 160-280 degrees and some might even touch 280-410.
Depending on the quality of the straightener and the plate material, something between 250-300 is good for your hair. The heat-up time should be also less and not more than 60 seconds.
Heat Settings
Make sure that the straightener you buy has at least 3 heat settings. This allows you to set the temperate as per your requirement. Remember, different hair types require different temperatures, so this point is a must.
Plate Material
Remember the plate material we talked about above, they play a vital role in the overall quality of your straightener. Here's a breakdown of the types:
Ionic Technology: Leaves a negative ion charge on the hair, making hair static and flyaway. This technology helps to smooth hair strands and make them shiny.
Ceramic-coated plates: The metal layer is topped with ceramic material and is most easy to find in the market. They are also the cheapest ones.
Titanium: Gets heat up very quickly, but tends to be a bit expensive. Mostly used by professionals.
Plate Size
Hair straighteners come in a lot of different shapes and sizes. The plates can vary in width from narrow to wide plates, as well. Consider the plate size as per your hair type. The following points are useful for your consideration.
Short hair: 2.5 cm – 3 cm plate
Short to medium hair: 3 cm – 4 cm plate
Thick, Long hair: 6 cm plate
Brand
The marketplace is certainly filled with a lot of brands that are popular in this category. There are a lot of internationally imported and locally manufactured hair straighteners brands in India. Here are some of the popular brands you can find:
Philips: Best known for its quality product and simplistic design. Philips hair straighteners are best considered for this smooth and shiny result, often protecting your hair with its advanced ionic technology. Special essential care straighteners are also available that can be used as self-use products. Philips straighteners are rated between Rs.5000 to Rs.10000.
Havells: The company started as an electronic manufacturer in India and offers a variety of different products in each category. Their straighteners are mostly available in ceramic plates and are much affordable than other brands. The normal price ranges from around Rs 3000 to Rs 5000.
Nova: The brand understands your needs and has provided a lot of great products in the hair category. All of their straighteners come with heat protection technology that controls the temperate of the straightener for maximum hair protection. Furthermore, they offer an exclusive discount if you buy the hair combo package, which includes all the right tools for hair designing. Nova hair straighteners usually cost around Rs 1000 to Rs 3000.
Cost
This is the point where you have to be your own judge. You see, hair straighteners come in a lot of different shapes, sizes, and hence their price brackets are quite different. While it is idle to always buy the best in the market, it's not always suitable for you depending on the usage.
If you're a seasonal user, then it's fine if you buy under a Rs 1500 straightener. However, if you want the extra features or use them more casually then there are some great options in the Rs 5000 bracket.
Safety
As with any electronic product, safety is an important thing to consider. Because a straightener will be always connected with the electrical outlet, it is important that you check the safety features. First of all, make sure that the straightener has a reasonably high cable length.
Next, make sure that it's tangle protected because we never know when the cable gets broken. Also, the heat setting button is quite important as it helps you to increase or decrease the heat as per requirement.
Some advanced hair straightener comes with premium security features like automated temperate control, anti-breakage, swivel cord, safety control, automated shutdown, and on/off switch.
Other Features
Some other factors to consider while purchasing a straightener in India are the warranty, flexibility, design, grip, and weight. Most of the top brands offer a reliable 2 years manufacturer warranty. It is good to have a nice box and some instructions if you're buying to gift someone.
Conclusion
Making an informed decision is always better than just buying randomly. With self-care products, it is always recommended that you go the extra mile – because it's the look that you're dealing with. Hair Straighteners are one of the best hair tools that can help you get a renowned look in just a minute. They are widely used and are a lot cheaper, consider we have tons of brands now.
We hope that you liked our recommendation for the best hair straightener in India. This will surely help you get the best result and value for money. Love what you're reading? Share our blog with your friends and let them know of these cool products. Have any suggestions? Let us know down in the comment section.
---
Spread the love
<a class="heateor_sss_facebook" href="https://www.facebook.com/sharer/sharer.php?u=https%3A%2F%2Fsitetricks.in%2Fmarket-capitalization%2F" title="Facebook"…
Spread the love
<a class="heateor_sss_facebook" href="https://www.facebook.com/sharer/sharer.php?u=https%3A%2F%2Fsitetricks.in%2Fwhat-is-ipo%2F" title="Facebook"…
Spread the love
<a class="heateor_sss_facebook" href="https://www.facebook.com/sharer/sharer.php?u=https%3A%2F%2Fsitetricks.in%2Fwhat-is-stock-market%2F" title="Facebook"…
Spread the love
<a class="heateor_sss_facebook" href="https://www.facebook.com/sharer/sharer.php?u=https%3A%2F%2Fsitetricks.in%2Fthe-best-water-purifier-for-home-in-india%2F" title="Facebook"…
Spread the love
<a class="heateor_sss_facebook" href="https://www.facebook.com/sharer/sharer.php?u=https%3A%2F%2Fsitetricks.in%2Fhair-curler%2F" title="Facebook"…